Employee Referral & Internal Mobility SOFTWARE platform
Unlock Employee-powered Hiring with ERIN
ERIN's employee referral and internal mobility software platform increases employee referral hires for non-desk and corporate employees by 5x and decreases turnover by 50%.
Streamlining EMPLOYEE referrals and mobility for over





Employee Referral software
Activate the Rockstar Recruiter in Every Employee
ERIN is an employee referral software platform that automates referral management to engage employees to make more employee referrals. With ERIN, employees can track their employee referrals, track bonuses, rewards, earn points for activity and share referral links on social media seamlessly.
Make employee referrals in under 30 seconds via email, text, or social share, and instantly track referrals and bonuses.
Internal mobility grows talent internally by matching employees with the next step in their careers.
ERIN integrates with your existing ATS and HRIS to fully automate employee referral administration.
Reward employees with daily points and prizes for referrals, run bonus campaigns, and boost engagement.
The #1 Employee Referral Platform
See why ERIN is the most effective employee referral software on the market.
Internal Mobility PLATFORM
Develop Top Talent from Within
Help your employees progress in their careers at your company with a fully customized internal mobility experience. From AI that suggests jobs to career profiles and eligibility screenings — we'll help you engage, retain, and grow the people you have.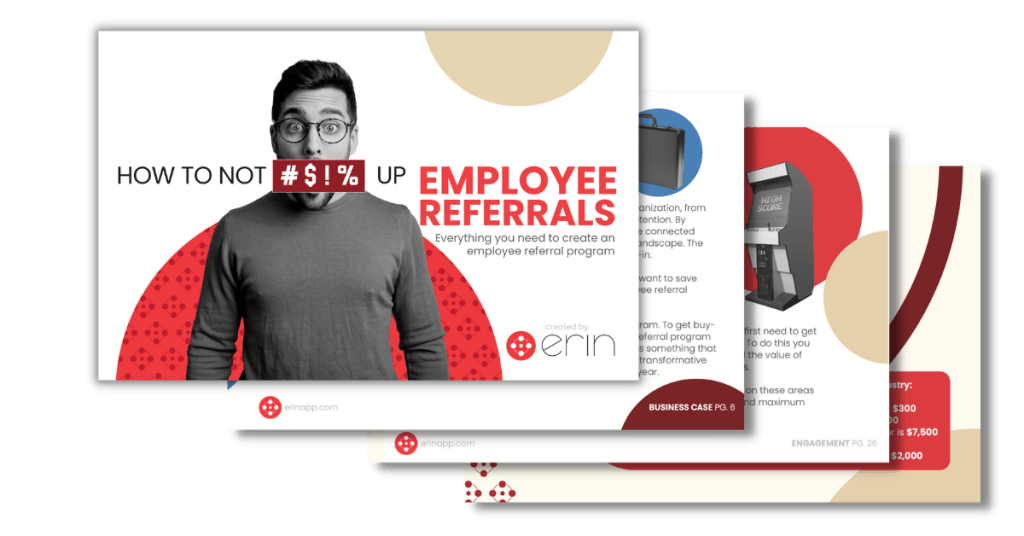 How to Not #$!% Up Employee Referrals
Through real-world case studies, data points, and actionable tactics, this book will show you how to transform your employee referral program into a leading source of hires.
See What People Are Saying About ERIN
Watch our video to see how ERIN puts employee referral policies to work. We deliver an increase in new referral hires while simultaneously reducing turnover.
Ready To Unleash Employee-powered Hiring?
Let us show you how to transform your employee referral and internal mobility experience with the power of your people.